Study in Australia is officially the Common wealth of Australia is a country comprising the mainland of the Australian continent, the island of Tasmania and numerous smaller islands. It is the world's sixth-largest country by total area. The neighboring countries are Papua New Guinea, Indonesia and East Timor to the north; the Solomon Islands and Vanuatu to the north-east; and New Zealand to the south-east. Australia's capital is Canberra, and its largest urban area is Sydney.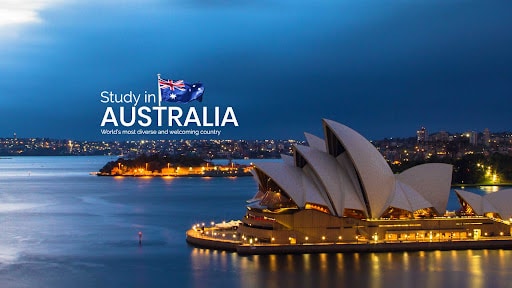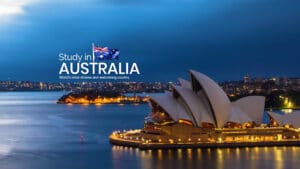 For about 50,000 years before the first British settlement in the late 18th century.
Australia has the world's 13th-largest economy and ninth-highest per capita income (IMF). the country ranks highly in quality of life, health, education, economic freedom, and civil liberties and political rights.
Australia is a member of the United Nations, G20, Commonwealth of Nations, ANZUS, Organization for Economic Co-operation and Development (OECD), World Trade Organization, Asia-Pacific Economic Cooperation, and the Pacific Islands Forum.
Australia is a wealthy country; it generates its income from various sources including mining-related exports, telecommunications, banking and manufacturing. It has a market economy, a relatively high GDP per capita, and a relatively low rate of poverty. In terms of average wealth, Australia ranked second in the world after Switzerland in 2013,
When most people think of Australia, they see wide open spaces of outback bush, kangaroos, koalas and clean air and water. However, Australia has so much more to offer than just that! Many international students are choosing to study in Australia for Indian Students because of its friendly, laid-back nature, excellent education system, and high standard of living. 
Australia is currently the third most popular destination for international students in the English-speaking world, behind the United States and the UK. Many international students choose to study in Australia there because of the cultural diversity, friendly natives, and high quality of education.
Schools and employers all over the world recognize degrees from Australian schools. Graduates from Australian schools are highly sought after due to the impressive international reputation of the Australian education system. This system is carefully regulated by the Australian government in order to maintain the high standards of education associated with the country.
Australia's standard of living is amongst the highest in the world. Living expenses and tuition costs are considerably lower in Australia than they are in the United States and United Kingdom. International students are able to work part time while they study, allowing them to offset their living costs. There is also the possibility of scholarships, which can help to lower the cost of study in Australia for Indian students.
Institutions in Australia offer a wide variety of courses and degrees, so international students can easily find the school and field that are right for them. The first decision international students have to make when choosing a degree program is which type of school is most catered to their needs and interests. Students can choose between universities, vocational education, and English language training. If necessary, it is easy for students to move between one qualification levels and from one institution to another.
One of the most appealing aspect of the country for international students is the quality of scientific research. Australia is at the forefront of new technology and innovations. Study in Australia for Indian students can take advantage the country's impressive technology and research resources.
Students visiting the country are allowed to work up to 20 hours per week while they are studying in Australia. This is a great opportunity for students who want to earn money to help with living expenses during their stay, and for students who want to gain work experience in their field of interest while they study.
We're making it easier for you to come and experience the difference an Australian education can make to your future career opportunities.